A Virtual Event For Publishers
Pubtelligence is a Google Certified Publishing Partner event organized by Ezoic that is designed exclusively for digital publishers, content creators, niche website owners, media brands, and bloggers.
What started out as an invite-only event hosted at Google offices has grown into one of the largest publisher-only events in the world.
Due to the circumstances surrounding COVID-19, we're turning Pubtelligence into a virtual event to highlight industry trends, emerging strategies, and actionable insights, during this unique time.
Who Attends Pubtelligence?
Digital publishers, major media brands, bloggers, and website owners of all shapes and sizes are invited to attend our virtual sessions.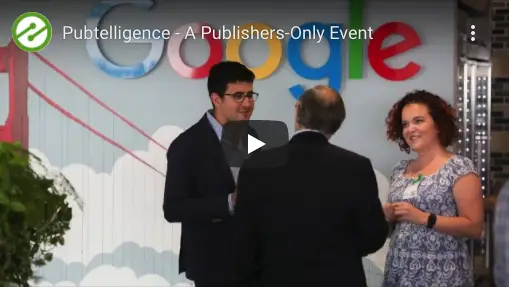 WHY Attend Pubtelligence?
Pubtelligence is an exclusive publishers-only event that features access to world-leading experts.
The event theme will focus on educational sessions centered around monetization, content, and SEO.
The event kicks off with a deep dive into what actually drives traffic.
HOW TO MONETIZE A NEWSLETTER
By TBA
Learn how to build an audience, source content, and attract advertisers.
BALANCING AFFILIATE & DISPLAY REVENUE
By TBA
Understand the nuances behind diversified revenue streams.
SEO: FACTS, FICTION, AND THE FUTURE

By Barry Schwartz, Search Engine Roundtable
Learn how to apply true SEO advice in 2020 and beyond.
Q&A: LIVE ANSWERS TO YOUR SEO QUESTIONS
By EXPERT SEO PANEL
Get live answers from experts on all of your SEO questions. Early submission of questions is recommended. Submit questions here.
THE KEYWORD GOLDEN RATIO: A DATA-DRIVEN WAY TO FIND KEYWORDS THAT RANK FAST
By Dough Cunnington, Niche Site Project
Doug will dive into actionable ways to discover underserved keywords. He'll discuss theory, show real-life examples, and cover common questions and mistakes.
FIRESIDE CHAT: STARTING A YOUTUBE CHANNEL
Featuring TBA
Get insights from two different publishers on their experiences with starting a Youtube channel.
HOW TO MIX CONTENT & DATA
By TBA, Ezoic
Learn how to use data-driven methodologies to create meaningful content.
STRUCTURING CONTENT FOR INCREASED ENGAGEMENT
By Whitney Wright, Ezoic
Learn how to structure content to better engage readers and improve SEO. Discover how to target the right keywords, use bulleted lists, H2 tags, and more for better engagement.
FREQUENTLY ASKED QUESTIONS
DO I HAVE TO PAY TO ATTEND?
The event is provided to publishers cost-free by Google & Ezoic (purely as organizers, not sponsors) and is designed to be a day of learning for a diverse group of digital publishers of all sizes and niches.
ARE THE SESSIONS RECORDED?
Yes, all sessions will be recorded and posted on this page.
IS PUBTELLIGENCE WORTH MY TIME?
Pubtelligence was very thoughtfully crafted by teams at Google and Ezoic.

99.8% of past event attendees have asked to be invited again and 94.6% said they would be willing to travel across the globe just to join!
The event is designed to be informative, enlightening, and interactive for publishers and website owners of all shapes and sizes.
We've collected feedback from every event and use that to improve Pubtelligence. For example, last time we heard that publishers wanted to see more case studies, expert discussions on SEO, and opportunities to network informally. We have worked to incorporate all of this feedback.
WHY IS THE EVENT JUST FOR PUBLISHERS?
We've found that this is what makes Pubtelligence so great.
Our experts and speakers can address topics specific to one unified audience. Webmaster, SEO, and other web-related topics are often broadly addressed.
Pubtelligence is specific to online content creators and publishing brands. This makes the information more actionable and much more helpful to those that attend.
This also makes networking much more enticing and beneficial for everyone. No one has to navigate around vendors, B2B businesses, or other non-publishers. It makes for a very friendly and helpful environment.